Professional Floor Installation in Houston
When selecting a flooring material for your home, it's important to consider both style and function. If you love the look of classic hardwood but are concerned about cost, maintenance, and durability, luxury vinyl and laminate present two great alternatives. Both flooring materials are extremely versatile and, thanks to embossing and 3D print technology, nearly indistinguishable from hardwood and other natural flooring materials.
Though they look similar, there are distinct differences between luxury vinyl and laminate that are important to consider before deciding which one to purchase and install. Here's a quick overview of the pros and cons of each.
What Is Luxury Vinyl?
Luxury vinyl flooring combines the high-end look of hardwood, stone, or slate with the durability of plastic. This makes it extremely resistant to moisture and a great choice for splash zones like the bathroom and kitchen. Luxury vinyl comes in sheets, tiles, and planks that can be arranged in different patterns to achieve your desired look. With no grout or special cleaner necessary, luxury vinyl is the easiest of all flooring types to clean. And, its superior durability makes luxury vinyl an ideal flooring material for homes with kids and pets.
What Is Laminate?
Laminate flooring is made of pressed wood covered in a clear plastic "wear layer." Though it looks authentic, laminate is resistant to scratches, stains, and fading that can happen to hardwood over time. Like luxury vinyl, laminate is moisture resistant, though not to the same degree. This makes laminate ideal for any room of the home except for the bathroom and basement, which most often experience standing water. When it comes to comfort, laminate is the clear winner. A foam moisture underlayment acts as a buffer between the planks and the subfloor, providing a softer footfall.
What Are The Pros And Cons Of Each?
Now that you know the difference between luxury vinyl and laminate, here's a look at the pros and cons of each.
Luxury Vinyl Flooring Pros
Extremely Moisture Resistant
Comes in a Variety of Colors and Designs
Easy to Clean and Maintain
Luxury Vinyl Flooring Cons
Not as Comfortable to Walk on as Laminate
Sharp Objects Can Damage the Surface
Can Be Difficult to Remove Once Installed
Laminate Flooring Pros
Comes in a Variety of Colors and Finishes
Easy to Install
Low Maintenance
Water and Moisture-resistant
Laminate Flooring Cons
Not Completely Waterproof
Requires a Special Cleaner
More Difficult to Repair Than Luxury Vinyl
Luxury Vinyl Or Laminate – Which Will You Choose?
Luxury vinyl and laminate flooring are durable, low-maintenance, affordable alternatives for homeowners with their hearts set on hardwood, stone, or ceramic.
Source: expressfloorstogo
About Fantastic Floors, Inc. We are a successful company with more than 25 years of experience in the market, we have the infrastructure, high quality equipment, materials and supplies to achieve and exceed the expectations of our customers, allowing us to gain the confidence and loyalty for our services.
We have more than 500 residential, 300 properties and 25 commercial customers totally satisfied with our services.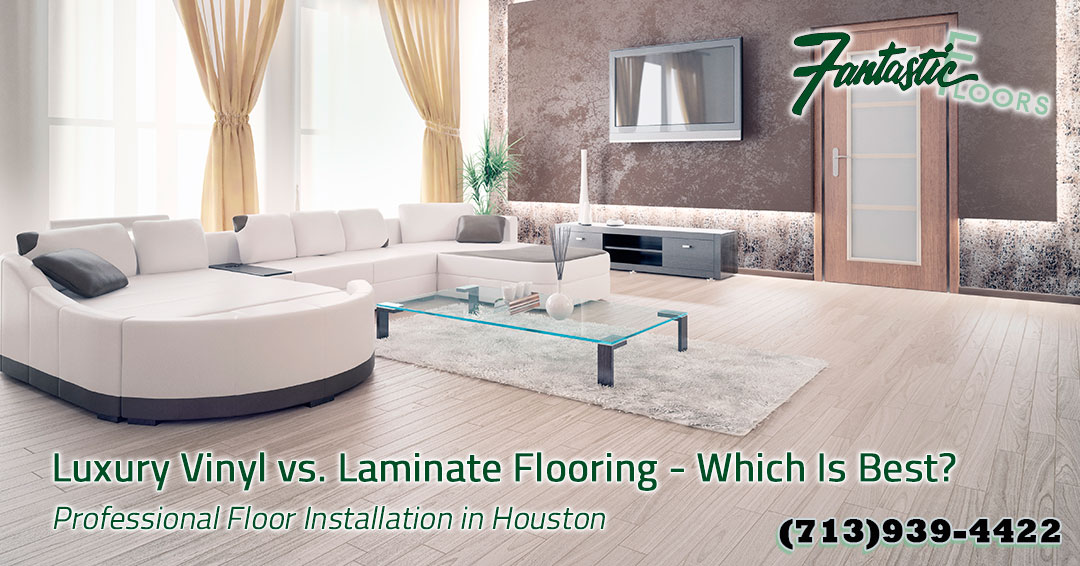 Professional Floor Installation in Houston.
Fantastic Floors, Best Carpet Installers in Houston, Best Floor Installers in Houston, A/C Duct Cleaning in Houston, Best Carpet Cleaning in Houston, Best Carpet Installation in Houston, Best Carpet Shampoo in Houston, Best Floor Installation in Houston, Carpet Cleaning Companies in Houston, Carpet Cleaning in Houston, Carpet Installation in Houston, Carpet Sale in Houston, Ceramic Tile Sale in Houston, Commercial Carpet in Houston, Commercial Flooring in Houston, Emergency Water Damage in Houston, Floor Installation in Houston, Flooring in Houston, Flooring Companies in Houston, Hardwood Floor Installation in Houston, Professional Carpet Installation in Houston, Professional Floor Installation in Houston